When vacation comes, the most we can do with this precious time is spend it with family visiting places. Hence, here's five helpful tips to make traveling with kids stress-free and fulfilling.
Bonding with kids
This is a time to bond with our kids and devote quality time with them. To keep them involved and entertained, we can bring along family card games to play. It would really be fun to just snuggle together in our pajamas and outwit each other on who's the fastest to form a pattern.
Enjoying the long trips
Sometimes, long trips cannot be avoided. Although these journeys can be spent on sightseeing or sleeping, kids may not always find it fun. Thus, time spent on the road can be divided into short breaks for a picnic, running around in wide open spaces, or simply enjoying the scenery. Obviously, these are moments worth reminiscing when they grow up
.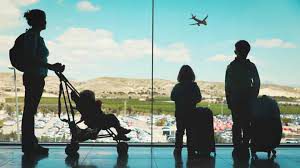 Getting enough rest
Traveling with kids especially with younger ones must be arranged so that everybody gets enough rest. During these long trips, the question of how parents can remain energized depends largely on the kind of places we visit. If it's outdoors, we must look for a hotel or cabin where our kids can safely play while we rest. A good selection of indoor activities from a card games list would be of great help.
Preparing a variety of activities
Children will love to do a variety of activities during vacation. Even during transits, they could do with some fun. We can bring along their favorite cartoon movies and the books we have been wanting them to read. They can also be encouraged to keep a journal and write about the places and experiences we enjoy as a family.
Coming home refreshed
Oftentimes, coming home from long trips can be exhausting. Keeping a variety of card games for kids will still be beneficial. With all their energy still full after being refreshed through rest and leisure, we can extend our bonding at home. We will be surprised at how valuable traveling with kids will turn out to be. Actually, this is one of the best gifts we can give to our kids while they are still young.